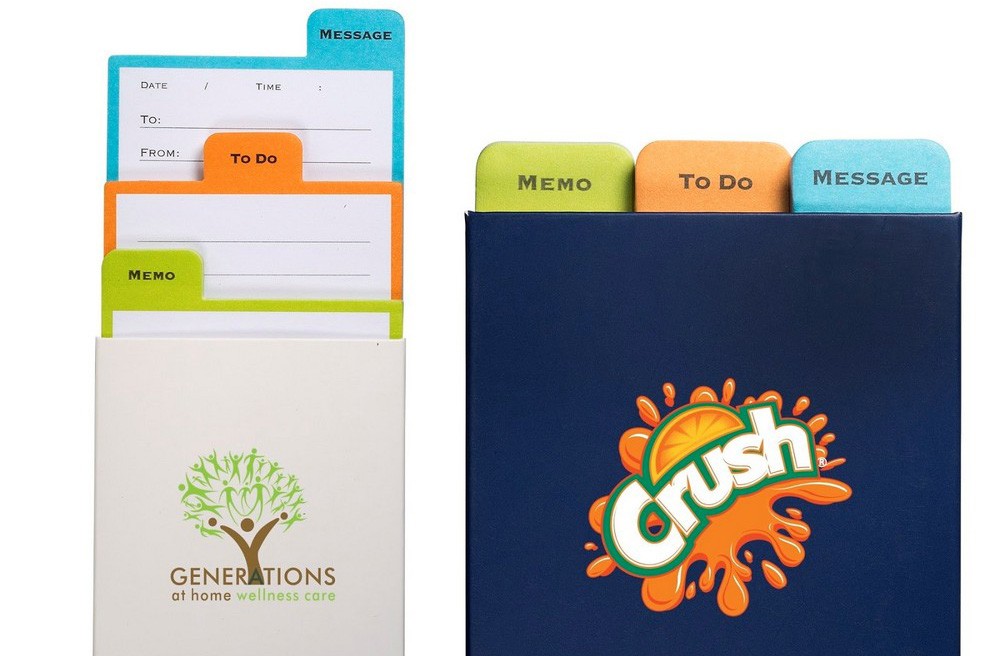 The Best Giveaways For Assisted Living Communities and Nursing Homes
Assisted living communities and nursing homes provide much-needed care and give peace of mind to both residents and family members. But to keep offering such helpful services, it's really important to remember these are businesses who depend on branding and marketing to keep their rooms full and doors open.
The responsibilities and tasks are endless for nursing homes, so I'm going to try to help to make the marketing piece at least a little bit easier.
Here's a list of the best giveaways for assisted living communities and nursing homes. The great part about these giveaways is all ages will appreciate them!
Branding & Marketing
There are plenty of opportunities to use promotional products. Giving tours, holidays, mailings, putting together events for residents and family members and organizing open houses are just a few times when the right promo item will go a long way. Here are a few go-to favorites.
Sticky Pad Set. We can all use some help remembering things once in a while! This little pad packs a lot of memory power with tabs for memos, to-do lists and messages. Check it out here.
Magnifiers. Credit card size and perfect to bring anywhere, these magnifiers make it easy to read menus, forms or magazines. Check it out here.
Pill boxes. No more wondering if you took your pills for the day. These boxes are a convenient way to keep track of pills and vitamins and come with a separate compartment for every day of the week. They even come labeled in Braille. Check them out here.
Smashlights. These flat LED flashlights are a fun twist on a regular flashlight. A magnetic back sticks nicely on a refrigerator and the large full color imprint area gets your message across in a big way. These are available with custom packaging that make for a memorable bulky mailing. Check them out here.
Welcome Gifts
The transition to an assisted care facility or nursing home is a big one and a lot of trust goes into choosing the right place. Help ease new residents in their transition and reassure their families they've made the right choice with special welcome gifts.
Blankets. The ultimate plush throw, this blanket is soft to the touch, cozy and comforting. Check it out here.
Calendar. Time doesn't stand still no matter how old you are! Help keep track of busy schedules with this large format calendar. Check it out here.
Adult Coloring Book. Adult coloring books are a creative way to promote relaxation and reduce stress. Encourage positivity and well-being with these 12 images just waiting to be brought to life with color. Check them out here.
Staff Uniforms
Whether independent living, assisted living or memory care, every facility benefits from having their staff wear branded apparel. Uniforms make it easy to know who to go to for help and provide lots of chances to brand your facility.
From polos to fleece to wrinkle-resistant shirts there are lots of options made specifically for the healthcare industry.
Make it easy for your team to order their uniforms through a custom online store just for your facility. It's easier than you think! Just choose what items you'd like to offer, set an amount or product limit and I can create a user-friendly staff store.
Lots of options to choose from! Need more suggestions? Get in touch and I'll help come up with unique and creative ways to brand and market your assisted living facility or nursing home.
---